Hahahaha..Want to start blogging? Or lets just say, your not making enough money blogging? There are
8 Things to Remember When Starting Any Blog
.The first thing is to find out if you're lazy and hate working, if that is the case then you don't even have to think about becoming a blogger because it's one of the toughest profession I've ever seen.
Blogging is never for lazy people; instead, it's for strong minded and focus driven people who honestly comprehend the dignity in sincere labour.Without doubt, most of you have seen one of
Pat Flynn's income reports
where he made over a hundred thousand dollars, and you think "wow," that's simple, and you start imagining what that amount of money can do for you.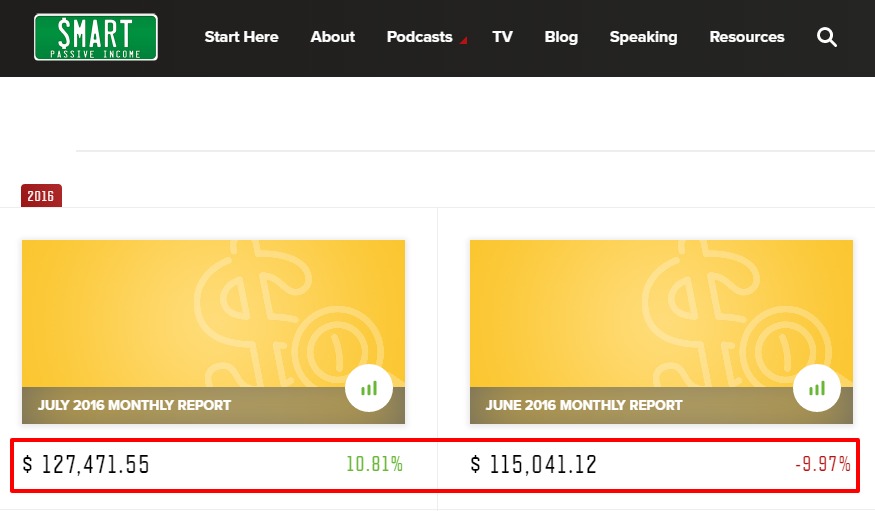 Credit: Smartpassiveincome
Get it right dear; it's not as simple as you're visualizing and thinking. What you don't know yet is that
Mr Pat flyn
started blogging since 2008, and if I'm to be very precise that's about nine years ago.
Additionally, a more interesting thing to note is that he was not making such amount within his first 2-3 years of blogging. That income you see on his site all came as a result of hard/smart work, consistency, and strong will power to succeed now, do you have these qualities? Or are you looking for a formula that will make you a millionaire overnight?
Frankly speaking, Here are The 10 biggest mistakes I made in my first year of blogging
You can't just fold your hand doing nothing and then, expect money to be following you everywhere, if that what you want, I'll advise you to play Lottery because blogging can never work for you.
Let me tell you, forget all those lies you've been fed with; blogging is not just all about getting a domain, hosting it and then, installing WordPress on your server, No. There are more to it that your fake coach probably forgot to tell you.
If it's that easy then, everyone will be doing it and Fake Steve Jobs will still be doing it until today but unfortunately, it's not.
Just like every other good thing in life, you must be willing to lay down so many things before you can become a celebrated blogger. Most of the successful people you see in the world today including bloggers and those in other professions started very tight.
Check them out and you will see that they didn't achieve all the fame overnight. But
the moment you become successful
, people will never see all your struggles again. They will forget all the sacrifices you made.
Let's cite a practical example with the image below as example: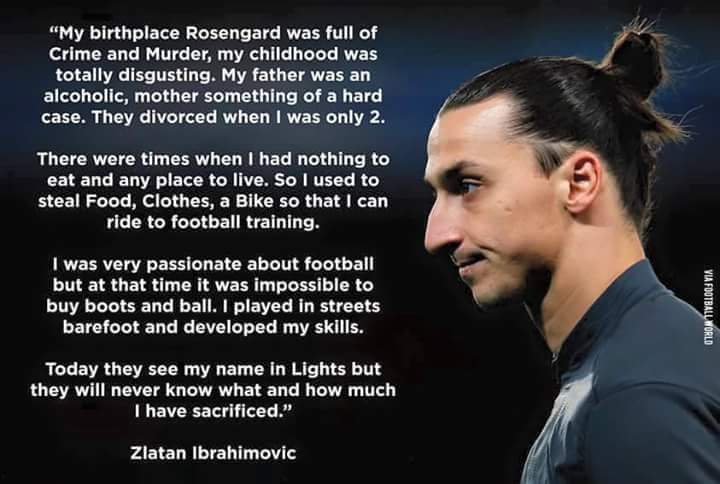 Source: facebook.com
What does this tell you?
Zlatan Ibrahimovic
is undeniably the most celebrated footballers in the world today but look at how he started. People will not even believe his story today.
Therefore, if you are not ready to work, please don't start a blog because you will never finish it.
Like I already stated above, blogging requires lots of discipline and sacrifices, this screenshot of a post made on Facebook recently says it all: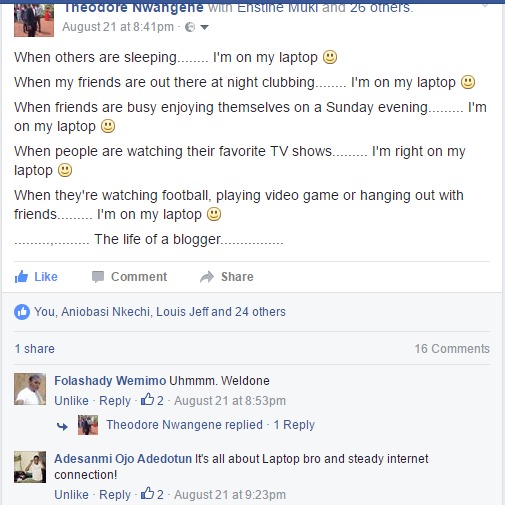 Image credit:Theodore Nwngene
Furthermore, If your vision is not impaired, you can clearly decipher that the above screenshot has already explained to you the life of a blogger; I want you to ask yourself if you can leave such a life.
You're always excited about the Internet lifestyle, but I guess you're yet to understand its true meaning.
Will you be able to spend all your day on the screen of your laptop?
Will you be happy to be on your laptop when everyone is fast asleep at night?
Can you afford to be on your laptop on a Friday night when your friends are busy clubbing?
What of when they're going out to have fun on a Sunday evening, can you afford to stay back at home right on your PC?
When your favorite football club is playing, will you rather be on the internet?
That is the actual life of a blogger, and you need to ask yourself from start if you can leave such an unenjoyable life and if you answered yes then, congratulations…….. You're going to make a good and successful blogger.
But if you in any way answered NO then, I'll advise you look for something else to do with your time.
As a blogger, you will also need some money to invest in tools that will make it easier for you of cause; you're not expected to start with a free blog if you're serious. You must be willing to invest in your business too.
WordPress is the best blogging platform on the internet
and to use it, you must invest in your domain and hosting. No real business comes free of charge, and if you want to be a blogger, you must understand that too.
You cannot skip all these sacrifices especially on your early days of blogging. I know it will come to a point
when you've started making some money
, and you can now afford to hire a virtual assistant and outsource some of the tedious tasks to freelancers, but that will be later.
Even if you have all the money to spend when starting, you will still need to familiarize yourself with these things before turning it to someone else to help you.
Conclusion
If you do not remember any other thing on this post; I want you to have in mind that blogging is not for lazy people, and it's not a get rich quick scheme either.
However, I'm very optimistic that you can do it.
Be serious with it, get a coach to teach you everything you need to know to succeed as a blogger, work as if your life depends on it and eventually, you will become like Pat Flynn too.